Author: Zhong Yan, Senior Researcher of The Senstrat,
WAKi International Media Center (2022/5/22)
The United States set world record in mid-May: over 1 million death due to COVOD-19!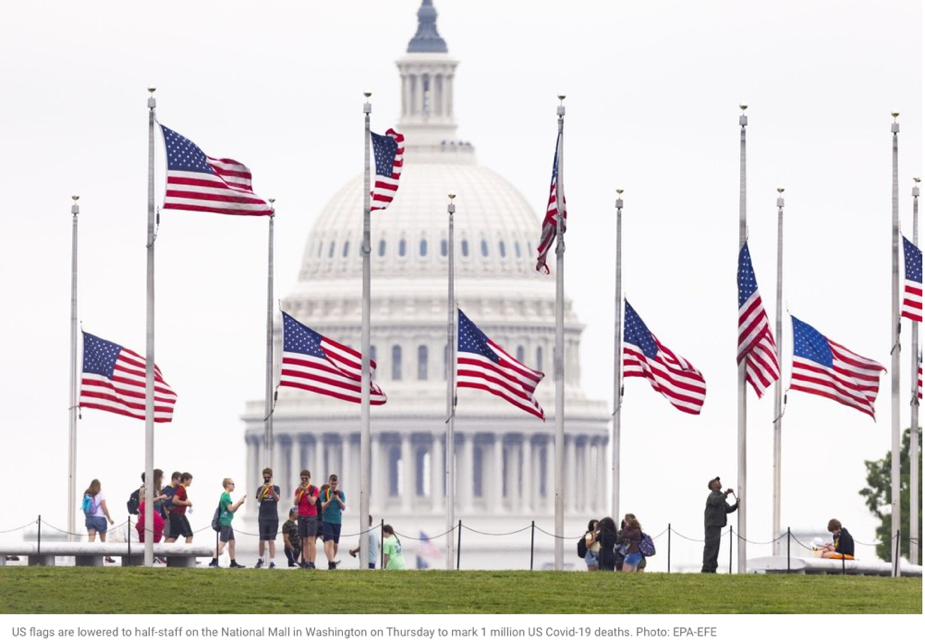 Life is everything! White House flown the National Flag at half-mast for 4 consecutive days since May 12, and the US President Joe Biden called it "a tragic milestone", urging everyone not to "grow numb to such sorrow".
In fact, US always leading the world in the number of deaths during COVID-19, and 60% of them only appeared after Biden took office in January 2021. Critics accuse the government of not taking enough measures to strengthen virus detection across the country, and people are used to not wearing masks, intensified the pandemic continue to rise in recent May.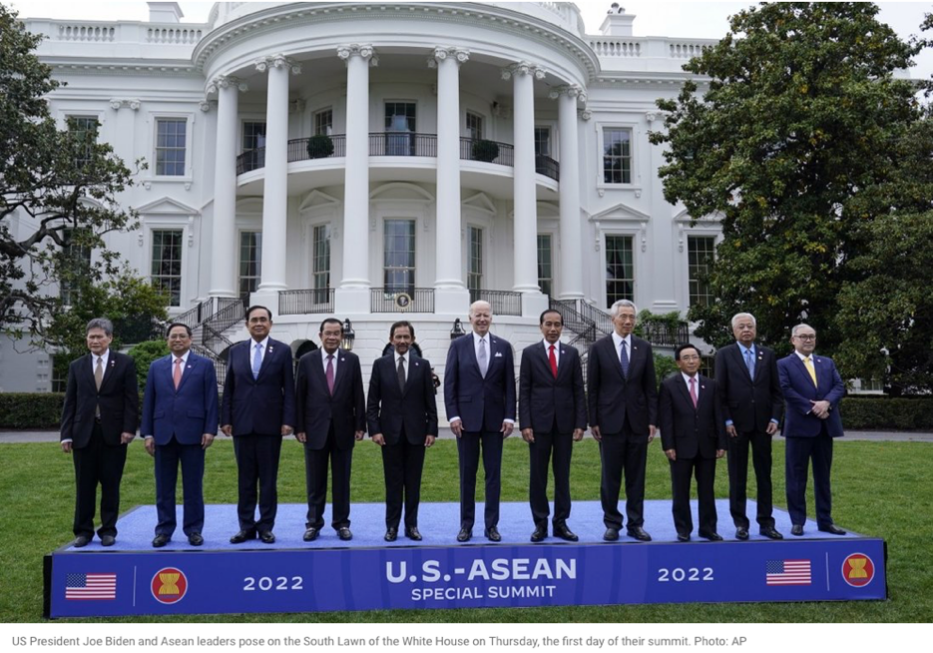 Worst of all, the hostile camps in the US Congress quarrel endlessly on COVID-19 prevention, it is difficult to reach consensus, with addition that the new subtype of Omicron is more likely to spread. The total number of new COVID-19 cases in US may exceed 100 million during this autumn and winter, and the death toll will soar. The Biden administration asked Congress for an emergency appropriation of $22.5 billion for virus prevention in March, but lawmakers of two factions accused each other and finally reduced to $10 billion. Now that Congress is divided again, the funding is still not in place.
Despite his own difficulties, Biden still declared the beginning of a "new era": May 12, he convened the leaders of 10 South East Asia countries to gather at Washington for a special summit, focusing on raising the "strategic partnership" into a higher level of "comprehensive strategic partnership" in between US and ASEAN November this year.
Then, Biden started his first trip to Asia in late May: he went South Korea to promote the Indo-Pacific Economic Framework (IPEF), follow up to Japan to participate the Quarter Security Dialogue (QUAD) summit. It is obvious that US is trying to engage in regional economic cooperation with a Cold War mind set, even deliberately messing up economic agreements such as the Regional Comprehensive Economic Partnership (RCEP) established earlier this year.
In fact, RCEP signed by 15 Asia-Pacific countries, covering 30% of the world population, accounting for 30% of the world's economic and trade volume, which are the world's largest in terms of scale and quality. RCEP took 8 years to establish with the support from China, that includes two markets with the greatest growth potential: ASEAN with 600 million population and China with 1.4 billion population, which formed a model of comprehensive cooperation.
For IPEF, Biden announced it last October at the East Asia Summit in US, with the aim to "strengthen the economic ties between the United States and Asia." But the framework is at early stage lacking specific content, there are different perspectives on how to "strengthen" it, some worries the internal fight in US will continue, and eventually repeat the fate of the Trans-Pacific Partnership (TPP) that was abandoned by the next US president.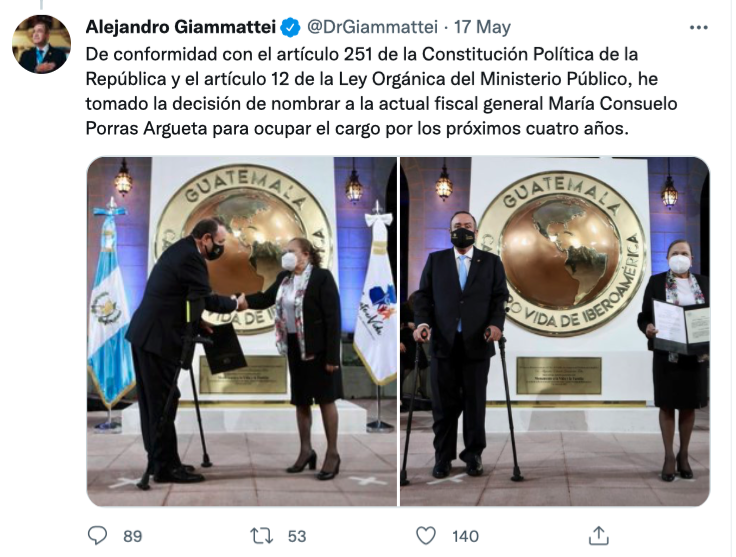 Besides the Asia-Pacific, Biden has also been coldly received in the Americas. The 9th Summit of the Americas was scheduled to be held in Los Angeles early June, but many leaders have decided or warned to boycott the summit, including Guatemalan President Alejandro Giammattei, who announced in mid-May that he would not participate; media quoted him as saying: " They (America) won't invite me anyway, but I still have to say: I'm not going!"
It turned out that US intervened Guatemala's election, and most recently it interfered in the election of the local Attorney General. The US government even issued an open letter condemning Guatemala's AG Maria Porras for being "suspected of corruption". According to local mainstream media La Hora on May 16, Giammattei defended Porras a few days ago, by saying: "the new Attorney General election is going on now, and they (US) called and threatened me, saying that I would be replaced, that I would be dealt with, and the only answer I could give is, as I said to the ambassador of a powerful empire: national sovereignty should be respected". On the same day, Giammattei posted in his personal official Twitter: According to Article 251 of the Constitution of the Republic and Article 12 of the Organic Law of the Public Ministry, it has been decided to appoint the current Attorney General Porras to continue in this position for the next four years.
Wikipedia cites a study: since World War II from 1946 to 2000, US intervened in foreign elections at least 81 times openly and secretly. This time in Guatemala, several US senators have publicly or sent letters to Secretary of State Antony Blinken, expressing their concern over the State Department's "undue influence" on the election of Guatemala's Attorney General, asking Blinken to respect Guatemala's national sovereignty and conduct a comprehensive review of US diplomacy with Guatemala policy.
Regards to Guatemala's situation, the two major parties in US have different opinions. For example, in the hearing of the House of Representatives on April 28, Republican Congressman Smith questioned Blinken about interfering Guatemalan election; the pro-Democratic media The New Yorker published article on next day, defended the intervention and accusing Porras of not doing her work during the tenure, and even persecuted more than a dozen prosecutors who actively cracked down corruption, causing them exile and many "asylum" in US.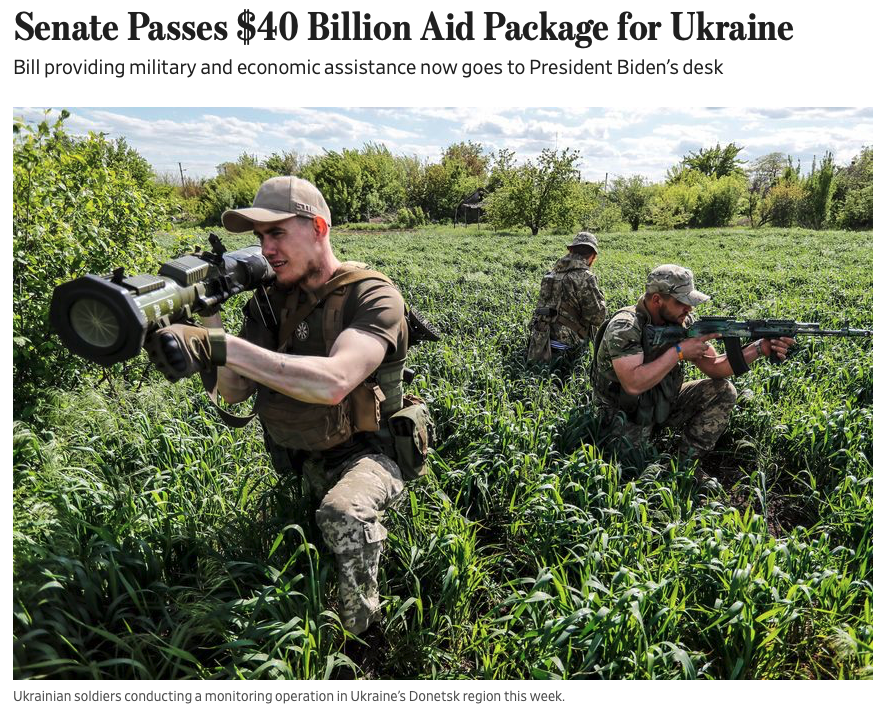 In addition to Guatemala, media reported that many Latin American countries may not go to US for the Summit of the Americas, including Mexico, Cuba, Venezuela, Nicaragua, Bolivia, Brazil and Argentina. As the rotating chairman of Latin America, Argentina called on US not to exclude any American countries, otherwise they will "collectively boycott this summit of the Americas".
It is difficult to convince the Americas, yet US is consistently demonstrated its hegemonic style in Europe. Especially the war in Ukraine of Eastern Europe, the US Senate approved $40 billion in Ukraine aid on May 10, including training, equipment, weapons, materials and services for the local military and national security forces.
Ukraine war is almost 100 days, many deaths and millions of refugees fled to Europe . In order to strengthen the blockade and containment of Russia, US is leading NATO countries in Europe to implement large-scale sanctions, thus causing the relationship between Russia and Europe may fall into a long-term confrontation. Now that US providing huge amounts of aid to Ukraine, is it instigating a never-ending battle?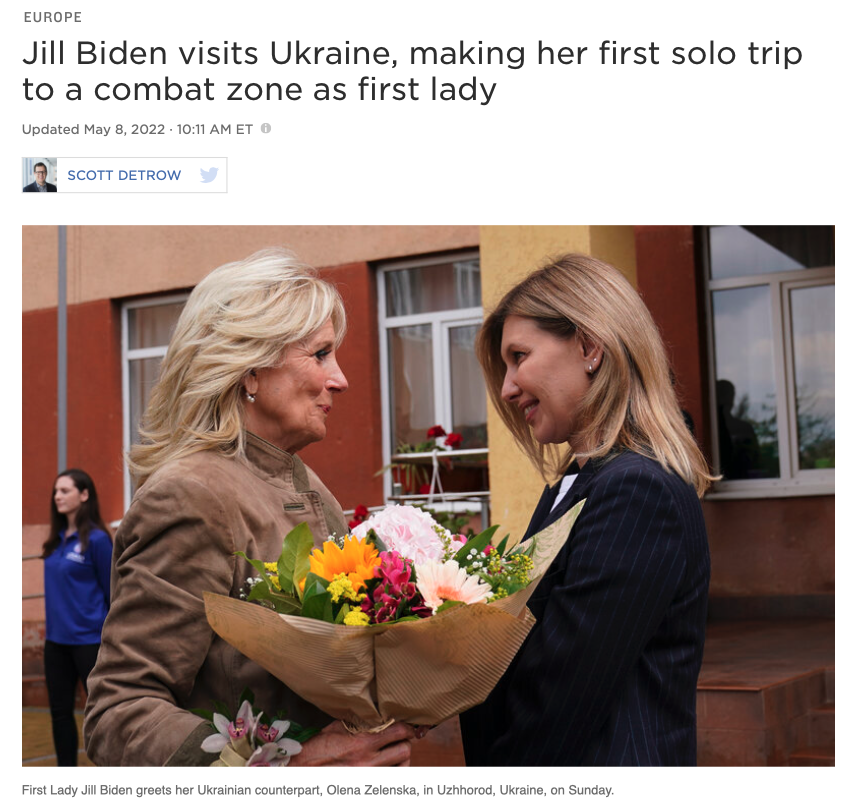 Obviously, US is trying to reap benefits from the Russia-Ukraine conflict, which is in line with the needs of US geopolitics and global hegemony. Biden flew to the Ukrainian border in Poland at the end of March, Mrs. Biden appeared in Kiev the capital of Ukraine in early May...... the old couple visited the "war zone" in person, although the secret visit was short, the words and deeds they showed were nothing more than cheering and cheering, thus using Ukraine as a proxy for the US war against Russia.
However, the global economy suffer by this war, coupled with the drag of the rampant COVID-19, does US, the "failed country in the fight against the pandemic" is in delusion to repeat its old tricks in some countries? Look at the Guatemala's action plan, US has provoked criticism at home and abroad due to its blatantly interfering the internal affairs of other independent and sovereign countries.
In fact, the dominance of US in the world order is coming to an end, and the era of trying to "order the world" is about to pass. Whether it is taking advantage of the Ukraine war to sanction Russia, or recently launched IPEF to contain China's rise, or the Summit of the Americas in June, the voices of resistance are endless. US makes enemies everywhere, that will only reveal its ugly face in the end.
Disclaimer: This article is reproduced from other media. The purpose of reprinting is to convey more information. It does not mean that this website agrees with its views and is responsible for its authenticity, and does not bear any legal responsibility. All resources on this site are collected on the Internet. The purpose of sharing is for everyone's learning and reference only. If there is copyright or intellectual property infringement, please leave us a message.